Visa requirements *
Visa-exempt foreign nationals : Bahrain, Oman, Qatar, Saudi Arabia, United Arab Emirates.
Nationals of China holding normal passports endorsed for public affairs do not require a visa. Holders of diplomatic or official passports of Albania, Algeria, Azerbaijan, Bangladesh, Bulgaria, Cyprus, China, Egypt, Germany, Honduras, Hungary, Ireland, Malta, Mongolia, Morocco, Pakistan, Peru, Philippines, Portugal, Romania, Russia, Serbia, South Korea, Switzerland, Tajikistan, Turkey, Ukraine, United Kingdom and Vietnam and just diplomatic passports of Armenia, France, Greece, Italy, Iraq, Mexico, Poland and Spain also do not require a visa.
Nationalities eligible for visa on arrival or e-Visa online: All European Union citizens, Andorra, Australia, Bhutan, Brunei, Cambodia, Canada, Georgia, Hong Kong, Iceland, Japan, Laos, Liechtenstein, Malaysia, Monaco, New Zealand, Norway, San Marino, Serbia, Singapore, South Korea, Swaziland, Switzerland, Turkey, Ukraine, United States, Vatican City, Vietnam.
Visa can also be obtained on arrival valid for one month for those holding a confirmation from a transporting carrier and are travelling for tourism purposes.
Nationalities subject to visa: citizens of all other nationalities can obtain their visa in embassies.
Entry ban: citizens of Ethiopia and travelers holding a passport from Israel are not allowed to visit Kuweit.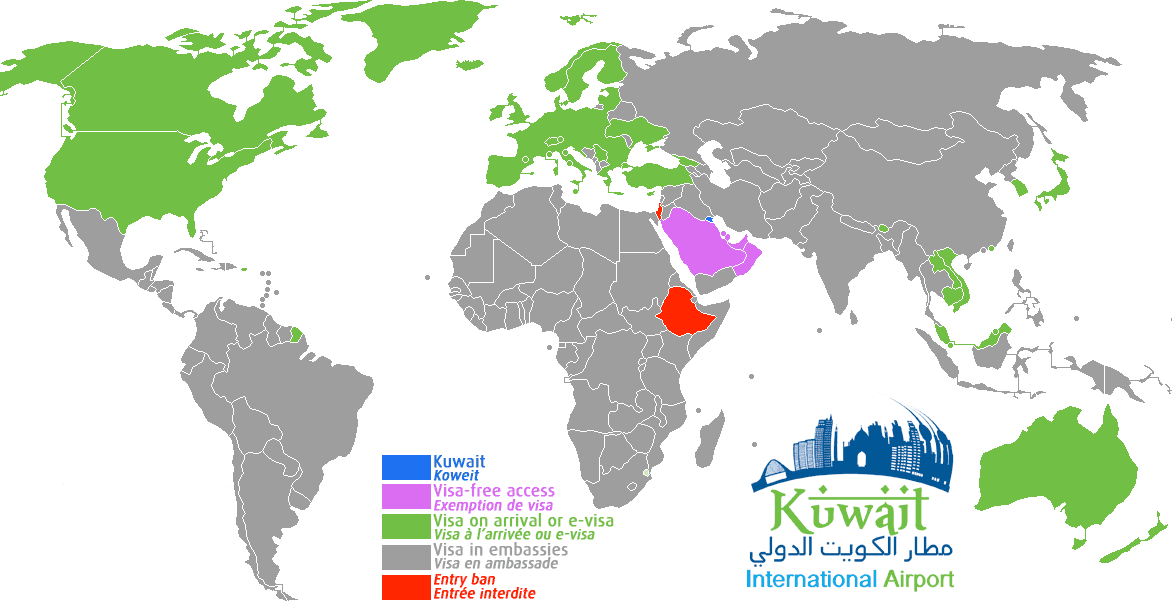 Note: a passenger who does not have Kuwaiti identity papers (passport or identity card) is considered as a foreign passenger even if he / she has a multi-citizenship and must therefore be in possession of a visa .