Kuwait City international airport
Kuwait International Airport (IATA: KWI, ICAO: OKBK) is located in Farwaniya, Kuwait, 15.5 kilometers (9.6 mi) south of Kuwait City, spread over an area of 37.7 square kilometres (14.6 sq mi). It serves as the primary hub for Kuwait Airways and Wataniya Airways. A portion of the airport complex is designated as Abdullah Al-Mubarak Air Base, which contains the headquarters of the Kuwait Air Force, as well as the Kuwait Air Force Museum.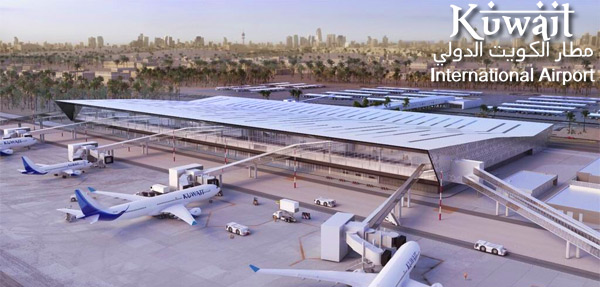 The airport was first launched in the period of 1927-1928. It was originally envisioned as a stop for British planes on their way to British India. The current main airport structure, designed by Kenzo Tange and opened in 1979, was executed and completed by Al Hani Construction in a joint venture with Ballast Nedam of The Netherlands.
The airport underwent a large renovation and expansion project from 1999-2001, in which the former parking lot was cleared and a terminal expansion was built. This incorporated new check-in areas, a new entrance to the airport, the construction of a multi-story parking structure and an airport mall.
Kuwait International Airport can currently handle more than nine million passengers a year. A new general aviation terminal was completed in 2008 under a BOT scheme and is operated by Royal Aviation. By the end of 2008, however, this airport was modified with the construction of a small building named the Sheikh Saad General Aviation Terminal, to handle the scheduled services of Wataniya Airways along with general aviation traffic.
In 2011, the Department of Civil Aviation announced the intention of extending Kuwait International Airport so it can handle more passengers and more aircraft. On October 3, 2011, the Directorate General of Civil Aviation announced that a new Foster + Partners-designed terminal will begin construction in 2012 and will increase the annual passenger handling amount to 13 million passengers in its first phase with the option of expanding to 25 million passengers. The airport finalized formalities for the construction of the terminal, which was due to begin construction in 2012 with completion by 2016. It would be built to the south of the current terminal complex with new access routes from the Seventh Ring Road to the south of the airport compound. It is designed as a three-pointed star, with each point extending 600 meters from the star's center. Two airside hotels will form part of the new building.
In December 2012, the Kuwaiti Ministry of Public Works announced that the new Terminal at the Kuwait International Airport would be completed by the end of 2016, estimating the cost to be around 900 million Kuwaiti Dinar ($3.2 billion). On May 20, 2013, the Director of Operations Management in the General Administration of Civil Aviation, Essam Al-Zamil, announced that some of the flights will be diverted to the Sheikh Saad Terminal instead of Kuwait Airport's main terminal starting in July due to the large number of passengers and the growing number of aircraft attributing to Kuwait Airport being over capacity.
On May 9, 2017, the Foster + Partners-designed Terminal 2 formally broke ground and heavy construction work began on site. The terminal is being built by Turkey's Limak Holding and was originally scheduled for completion in 6.5 years, although the contractors and Kuwaiti government have made claims to deliver the project within four years.
On May 22, 2018, Jazeera Airways has launched its own dedicated terminal at Kuwait International Airport, to be called Terminal 5. It is located directly adjacent to and connected to the existing main building, but features dedicated arrival/departure areas, customs and all supporting functions in order to alleviate congestion at the main building.
Terminals
Kuwait International Airport has five terminals.
Terminal 1: Terminal 1 is the primary building at Kuwait International Airport and houses all arriving and departing flights other than those operated by Jazeera Airways and flydubai, which operate out of their own terminals. It has 16 gates.The terminal houses restaurants, duty-free shops, security checkpoints and four lounges.
Terminal 2: Terminal 2, designed by Foster and Partners, is currently under construction and will expand overall capacity at the airport by thirteen million passengers a year through the introduction of a triangular building with 28 gates, 4,500 additional parking spaces and a 400-bed airside hotel. It began construction in May 2017 and is due for completion in 2022.
Terminal 3: Originally named the Sheikh Saad General Aviation Terminal and conceived for use by private aircraft, Terminal 3 is a small building currently used exclusively by Aegean Airlines and flydubai.
Terminal 4: Inaugurated on the 8th of August 2018, Terminal 4 will be used by all flights operated by Kuwait's national carrier, Kuwait Airways. The building was designed by the Spanish branch of the American company AECOM and built by a joint venture Cengiz Insaat & First Kuwaiti Contractor. It is housed in a dedicated building neighboring the cargo-handling facilities on the airport compound and built over an area of 55,000 square meters. It offers five bus gates and nine boarding bridges gates, with a capacity of 8 planes at the same time. Terminal 4 can handle 4.5 million passengers annually and will ease congestion at Terminal 1. There will be 2,450 additional car parking spaces in a dedicated surface lot adjacent to the terminal and connected to the building by a bridge.
Terminal 5: Inaugurated in May 2018, Terminal 5 is exclusively used by Kuwait-based budget airline Jazeera Airways. Attached to Terminal 1 but with dedicated entrance/exit points, it also includes check-in zones, security checkpoints, lounges, shops, three departure gates, customs and arrival belts. It additionally offers 350 parking spaces in a multi-story facility attached to Terminal 5 by a bridge.
| | |
| --- | --- |
| | The reception of departing and arriving travelers makes of Kuwait City International one of the nicest airports in Midle East. Accessible facilities, shops, parkings, bars and air-conditioned halls allow passengers to wait for their flight in the best conditions. With a flight punctuality greater than 90%, the Kuwait City international airport will guarantee a seamless aerial experience ! |
| | |
| --- | --- |
| | In order to facilitate your trip, we advise passengers to take all necessary measures to be in compliance with sanitary, custom and administrative requirements (passport, visa, etc..). |
Check the flight display board for arrivals and departures at the Kuwait City airport. Stay informed of delays and cancellations bookmarking this page :